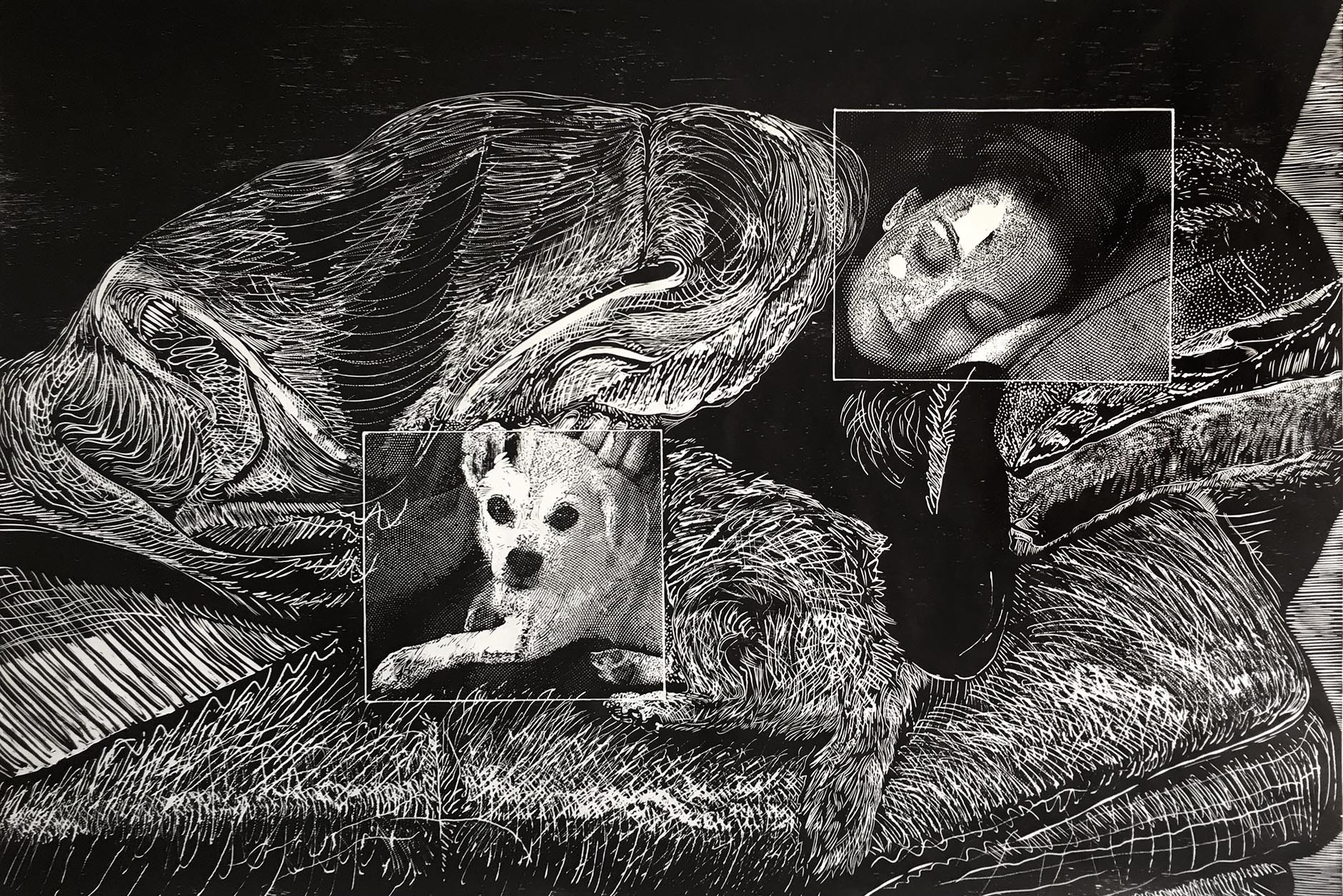 Printmaking: Layers in Conversation
NC2215-01
See Notes for schedule and registration–
Sunday, Monday, Tuesday, Wednesday, Thursday, Friday, Saturday
This online course features the following types of interaction:
Live meetings
Live critiques
In this intensive, week-long class you will learn the properties of several different print techniques, using oil-based inks. We will begin with woodcut, then move on to drypoint. These techniques will be combined with monoprint photo-transfer techniques – using polyester plate and paper plate lithography. Learn to use all of these techniques successfully in a single print! Analog techniques are the primary focus, but some digital tools and concepts will be demonstrated to assist with problem-solving and image development.
Note: Aside from printmaking supplies, which will be on the list we will send you, please have access to a laser printer, photocopier, or inkjet printer. If you do not own one of these things you may be able to access one at a local library, Kinkos, Fed Ex, UPS, or Staples.
Registration closes on June 20, to allow participants time to have their supplies shipped.
This workshop is part of Art New England. Meetings are Remote in 2021. Register HERE.
First Live Meeting: Sunday 5:30-8pm
Monday to Friday 10am to 5pm. At least two live meetings each day.
Artist Live Q&A: 6-7:30pm. Speaker schedule TBA.
Gentle Yoga and Meditation Friday, 6-7pm
Saturday 10am-1pm–live meeting
Joshua Brennan received his Bachelor of Arts in Printmaking and Graphic Design from the University of Wisconsin, Parkside in 2004 and a Master of Fine Arts in Printmaking and Studio Art from Indiana University in 2009. He teaches printmaking as a Lecturer at Boston University, where he is also the Technical Associate in Printmaking. Brennan … Read more