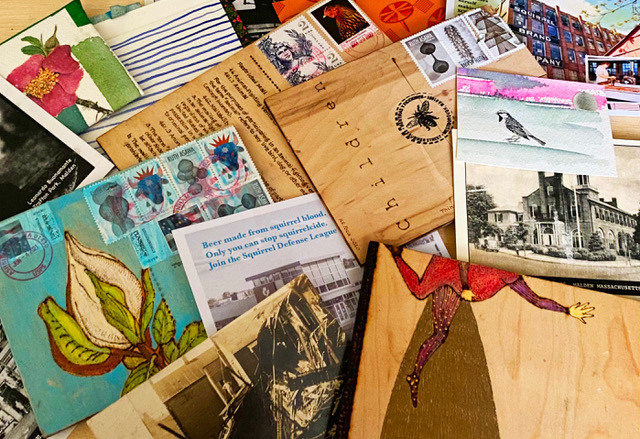 Mail Art: Storytelling, Connection, and Activism
NC683-01
Originally Mail Art emerged in the 1960s as a reaction to the gallery system, (mail art is free!). The movement was made famous by Ray Johnson, who founded the New York Correspondence School and established a network of international artists who are still using the mail art form today. These global artists maintain a similar Neo-Dadaist attitude, and this course will explore contemporary mail art communities and practices as a source of inspiration. Mail art, sent through the traditional United States Postal Service, has new relevance in the era of text and email, and we'll explore its radical potential.
In this workshop, we will look at the potential for mail art as a vehicle for sequential storytelling, political activism, and support to those outside the reach of technology (within the prison system, residential hospitals, and in locations without internet). We will look at mail art as an object, one which is sometimes collaborative, sometimes anonymous.  Taking advantage of the fact that the USPS has a unique willingness to accept and deliver everything from bees to day-old chicks, to unboxed sculptural objects, we will develop concepts for mail art and then put them into practice! Materials will start with wood, paper, and collage, (digital or by hand), and expand from there.
The workshop will take place on two weekends, two weeks apart, to give time for mailing within the US. International mail will also be encouraged but results may not be visible within the timeframe of the class.
Note: This class meets on November 5 and 19.  No class on November 12th.
Early registration is recommended for on-campus classes.  Please check massart.edu (see link on the upper right corner of the page) for current COVID protocols. Indoor masking and vaccination (and booster if eligible) are required. Please complete this Vaccination Attestation before attempting to go to campus.
Brett S. Poza is a multimedia artist who for many years has used pyrography and other forms of burning to depict images on wood, paper and bone. Observations of nature as well as the manipulation of medical images are a large part of her current practice which is grounded in observation, drawing and the development … Read more