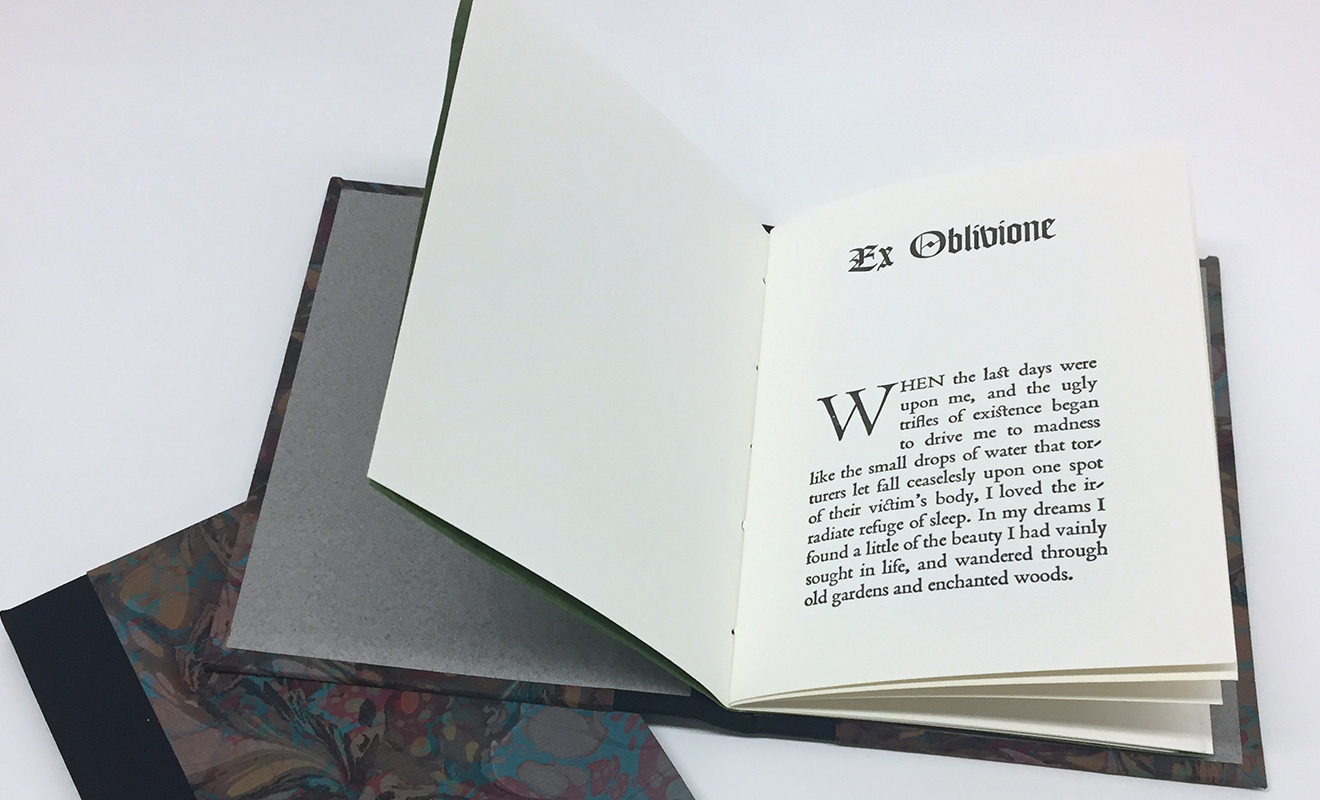 Letterpress Printing
CDGD300-01/NC0300-01
Tower 9th Floor, Letterpress Lab
This class offers a thorough investigation of letterpress printing using traditional and experimental methods.
The first six weeks of the letterpress class covers traditional typesetting tools and methods, printing techniques, and Vandercook flatbed cylinder press operation. Students will devise an individual project and the class will meet to discuss design directions and project feasibility. Past projects include artist books, posters and broadsides, type specimen sheets, abstract wood type compositions, stationery, or invitations. What will you print?
The second half of the course is focused on producing work. Student monitors provide open access time in the shop on week-day nights. Work time outside of class is expected and strongly encouraged. Ink and proof paper is supplied, but individual projects will require paper provided by the student. Our final class is a relaxed presentation and review of the final projects.
The class will also visit the
T.J. Lyons Collection
, an archive of over 2500 fonts of metal type and myriad wood type faces as well as all sorts of illustrative cuts and printed ephemera. Additionally, the class will visit the Morton Godine Library to view artist books and rare type specimen books.
Our press room–one of the largest letterpress shops for students in New England–has six presses (three Vandercook SP15s, a Vandercook Universal 1, a Vandercook 219 Old Style, and a Vandercook No. 2) which affords students ample access to a press in class and during outside work sessions. Our type collection boasts over 500 fonts of metal type including typefaces such as Garamond, Goudy, Cloister Oldstyle, Bulmer, Poliphilus, Fournier, Univers, Optima, Franklin Gothic, Bernhard Gothic, Kabel, Cheltenham, and many others. The available collection also has over twenty fonts of wood type in a variety of styles both serif and sans serif.
More information about letterpress classes can be found at
Keith Cross is a designer, printer, and educator with extensive knowledge of hot metal and digital typography. He runs Milk Row Studio, a creative design studio in Worcester, MA. Keith is a member and former president of the Letterpress Guild of New England and a member of the Society of Printers. He holds a BFA … Read more