Intermediate Digital Post-Production in Adobe Lightroom
NC458-01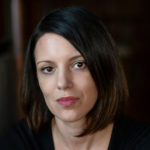 This online course features the following types of interaction:
Pre-recorded content
Live meetings
An intensive digital post-production workshop for those students with some experience in digital photography and Adobe Lightroom. Designed to build skills and deepen understanding of a streamlined, professional workflow that takes images from camera to finished product using a powerful, industry standard software. Topics covered include advanced tonal and color adjustments; creating custom presets; the Lightroom/Photoshop workflow; and exporting images for web, print, and photo books. Additional topics will be based on individual goals and requests of participants. For Class 1 on 8/8/20, bring a drive (portable external or flash drive) containing images (RAW files or JPEGs, RAW encouraged) to work with in class. This workshop combines group technical demonstrations and one-on-one work sessions.
Rebecca Morrison is a multimedia artist whose practice incorporates photography, video, and installation. She has worked for more than a decade as a commercial photographer, freelance editor, and photographic educator for students of all ages, and has taught photography and video courses at New England College in New Hampshire, Boston Public Schools Summer Programs, and … Read more