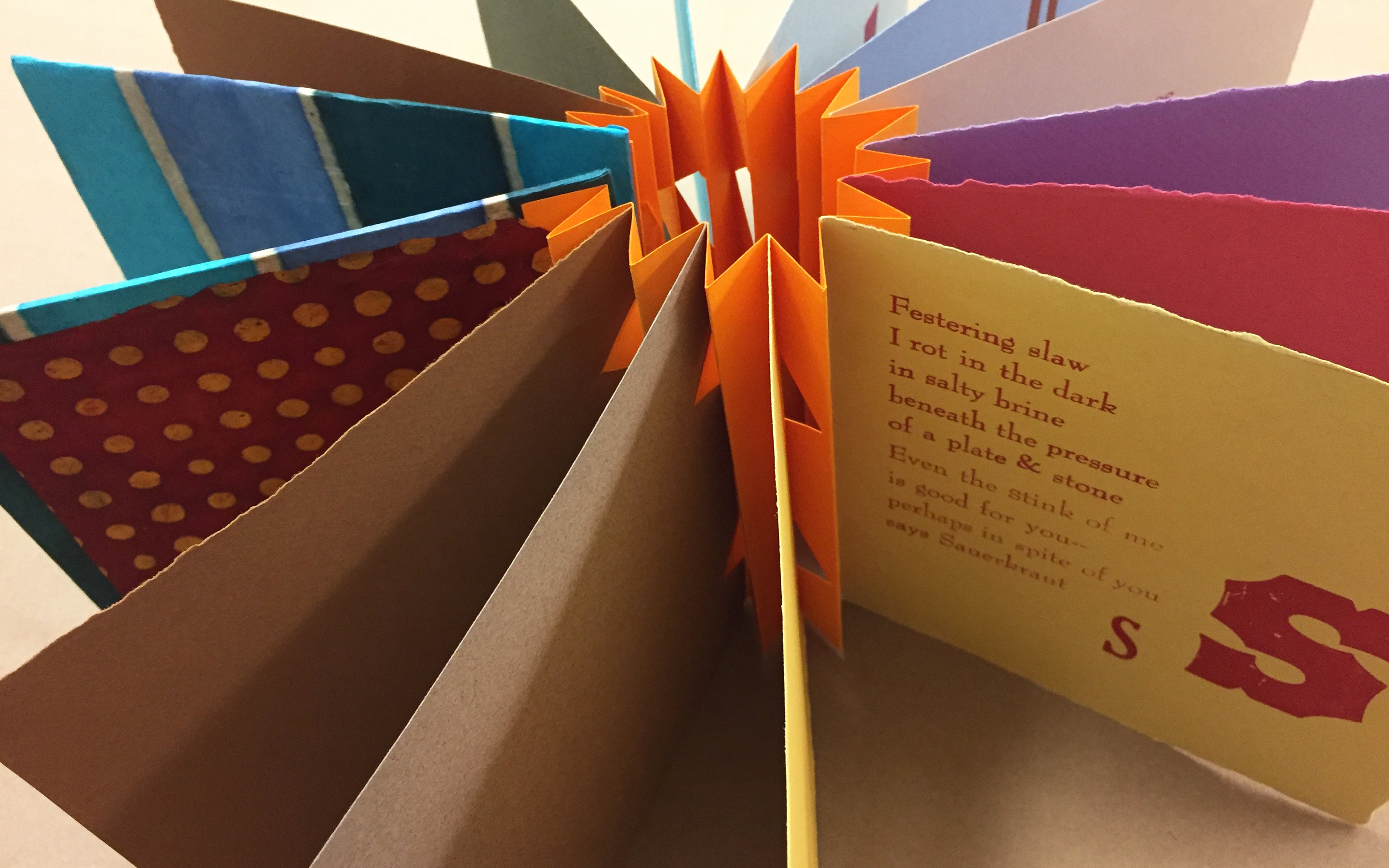 Artists' Books on the Vandercook Press
CDGD372-01
Tower 9th Floor, Letterpress Studio
Tuesday and Wednesday (except July 3)
Create hand-made books incorporating letterpress-printed text and imagery. Learn how to hand-set metal and wood type, as well as use a variety of image-making techniques including pressure printing and printing from hand-carved linoleum blocks. Experiment with a variety of papers and learn how to achieve proper print quality on a flatbed cylinder press.
Explore a variety of traditional book bindings using adhesive and non-adhesive techniques, all of which can incorporate letterpress-printed work to produce one-of-a-kind books, small editions, or portfolios. No prerequisite technical skills are required, but the ability to lift twenty-five pounds, the ability to stand to operate the press, and manual dexterity are necessary.
MassArt's letterpress shop and book arts studio include five flatbed cylinder presses, hundreds of type cases, numerous book presses, and plenty of space for bookbinding work.
Alice Stanne is a handmade book artist and illustrator. She combines watercolor illustrations with various book-binding techniques to create one of a kind artist books, rich with detail and pattern. Alice earned a BFA with Honors in Illustration at Massachusetts College of Art and Design. She now teaches book-making and illustration classes at MassArt in … Read more
Keith Cross is a designer, printer, and educator with extensive knowledge of hot metal and digital typography. He runs Milk Row Studio, a creative design studio in Worcester, MA. Keith is a member and former president of the Letterpress Guild of New England and a member of the Society of Printers. He holds a BFA … Read more