Learn machine and hand woodworking fundamentals, push yourself as a designer and wood artist, practice new techniques and create original pieces of your own design.
In this studio shop course, students initiate and are guided through a hands-on design/build project based on fundamental tenets of furniture design. The course begins with a review of design fundamentals and the concept design process. Concepts are refined through additional drawings and maquette model making as preparation for completion … Read more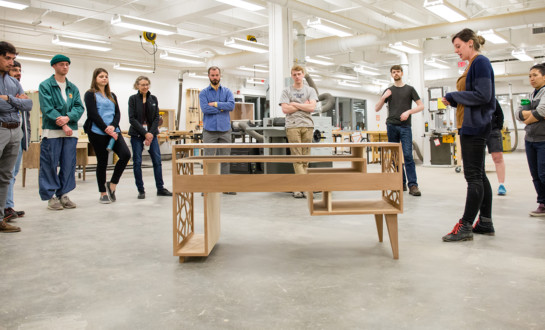 Students are immersed in the nuts and bolts of architectural craft and construction technology practice. Through design sketch problems, hands-on demonstrations, and readings, students focus on the most common methods of constructing building systems in wood, masonry, steel, and concrete. Constructing a full-scale model of a wood-framed structure brings the … Read more
Learn how to use hand tools to uncover form in wood. Begin with texture and low-relief carvings before moving on to small in-the-round sculptures. Safe and comfortable practices, tool selection, and tool care will be emphasized throughout to establish sustainable woodworking practices. All levels welcome.